Lien Phat Science and Technology Co., Ltd was established in 2013. With a team of Biotechnology Engineering with extensive experience and enthusiasm, along with the cooperation of experts and scientists specialized in Technology Biology and Aquaculture.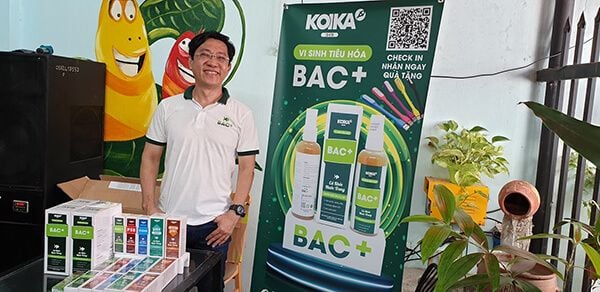 Combined with the technology transfer and consulting from Sunrise Bio-Technology Company UK, we have built and operated a specialized laboratory for microbiological research for agriculture; research and production process ISO 22000 and GMP certified by KMR Company – Korea. We specialize in researching applied biotechnology solutions and especially provide products that support the health of aquatic animals as well as treat and improve the environment in aquaculture, helping farmers. Planting increases productivity and efficiency. At the same time, bring a clean, green and natural environment to the farm. Bring to farmers a Bio-Organic Farm – BioFarm and Safe Organic Products – Organic for consumers.
AWARDS AND CERTIFICATIONS HAS BEEN ACCOUNTED
Meet the standards of the Biofinished Products Factory of the Directorate of Fisheries
Achieved international certification ISO 22000 and GMP by Korean KMR (member of international ISO certification organization)
Particularly brand KOIKA:
Being the first brand in Vietnam market to obtain the certificate of conformity according to National Technical Regulations (QCVN)
Ho Chi Minh City Business Association awarded the title Ho Chi Minh City Outstanding Products and Services 2019
Trademark KOIKA has been registered for global trademark protection
KOIKA BAC + products have been certified for free sale (CFS – Certificate of Free Sale No. 1493 / TCTS-NTTS of the General Department of Fisheries of Vietnam issued on August 13, 2020), and at the same time passed the inspection of specialized agency and meet import standards in the US market and Southeast Asian countries
KOIKA BAC + products have also passed rigorous censorship, meet stringent requirements and are now available on Amazon's global e-commerce platform.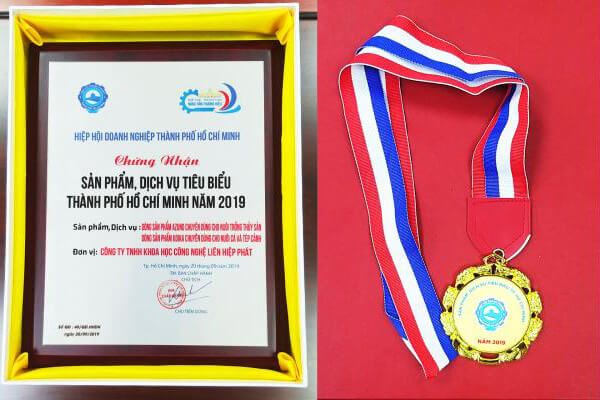 Ho Chi Minh City Outstanding Products and Services Awards 2019
VISION AND MISSION
VISION
With the motto of bringing products safe for human health and living environment, we have made constant efforts to research and exploit the potentials and benefits of biotechnology combined with public applications. Artificial intelligence technology (AI) in the digital age of 4.0 technology to create microbiological products with high quality serving domestic and foreign customers.
MISSION
We aim to become a reputable brand that is trusted by customers and is environmentally friendly. Providing customers with a variety of modern microbiological products to meet all needs, bring high productivity and effectively protect environmental resources.
BIOLOGICAL PREPARATION FOR AQUACULTURE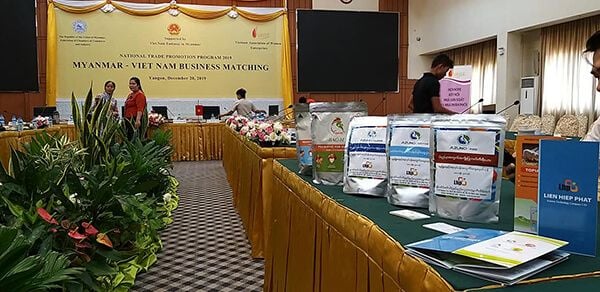 Products of Lien Phat at VIETNAM TRADE PROMOTION FAIR IN MYANMAR 12/2019
Biotechnology (Bio-Technology) has become increasingly practical and has great significance for human life. Probiotics, also known collectively by the term Probiotic, simply means "Be friendly, be positive for life" derived from the Greek word "pro" (positive, friendly) and " bios "(life).
Many biological studies have been published in the past decade and have achieved outstanding achievements. In aquaculture, the application of probiotics has been shown to offer many advantages such as improved organism growth, enhanced efficiency, enhanced immune system, improved water quality and Balance the ecosystem; The most important thing is to bring safety to pets and human health. Therefore, probiotics are and will be an effective and safe solution not only for aquaculture farmers in particular and for the agricultural sector in general, but also to mainly benefit consumers and society.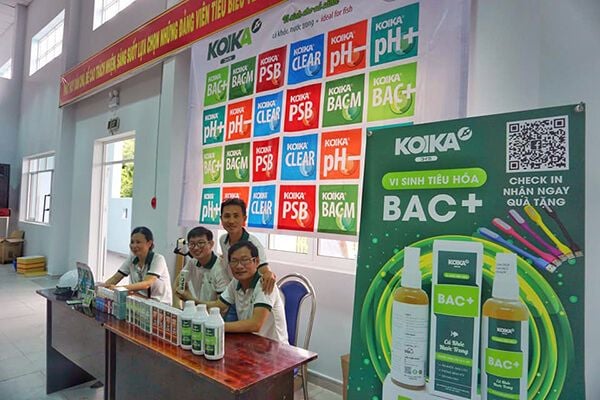 FIELDS OF OPERATION
With the aim of providing customers with an effective, comprehensive and sustainable solution, we currently offer the following bio-products
Microbiological preparations for aquaculture include:
– Digestive yeast helps shrimp metabolize food better, reducing FCR.
– Probiotics for treatment and improvement of pond bottom.
– Probiotics treat toxic gas.
Microbiological preparations for fish and shrimps:
– Digestive yeast used exclusively for fish and shrimp.
– Yeast for water treatment for fish and shrimp.
All products have been experimentally coordinated by the Company on shrimp seed (Shrimp – Litopenaeus vannamei, Tiger Shrimp – Penaeus monodon) and fingerlings (Red Myfish – Sciaenops ocellatus, Koi Fish – Cyprinus carpio, Kim Long – Scleropages formosus – Cross Back Golden Malaysia, Discus – Symphysodon discus) in the experimental environment at the Laboratory and at the Field Farms in Bac Lieu, Ca Mau, Khanh Hoa Provinces from Africa Company and JF Fish Company (USA).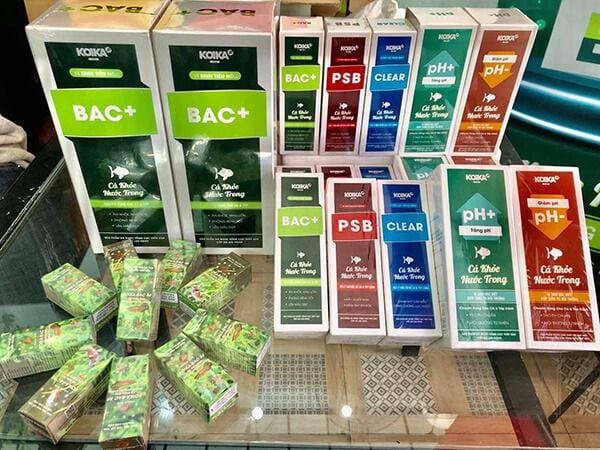 KOIKA branded products for Lien Phat's ornamental fish are available on the market today
We wish to expand the market, find agents to cooperate in distributing products nationwide.